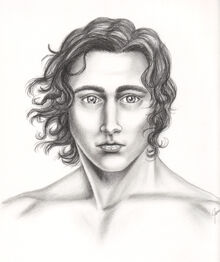 Mage Gabriel is one of the focal heroic characters in the Father of the Fifth Age series. An extremely powerful Mage, he was appointed the protector of Princess Robyn Bolt so that she would be able to take the throne of Anatoly when she grew of age.
Warning! This page contains some spoilers about the Father of the Fifth Age series. Read at your own risk.
Early Life up to age 15
Edit
Gabriel spent his life up to age 15 in relative peace, living in Urima Manor and learning Earth from his father, Mage Cordis, and Mage Dagan of Castle Jaden. Even when he was young, Cordis could tell that his son was unusually powerful for the time - he caught on quickly to difficult patterns. Soon it was discovered that Gabriel could control multiple Elements.
At some point during Gabriel's younger years, after the King of Anatoly died, Prince Balien Bolt was fostered at the Manor for several years. The two grew very close and would describe each other as a brother. Balien did eventually return to Kilkiny to live with his mother and sister.
When Gabriel was 15, Queen Rincarel died under mysterious circumstances and her 10-year-old daughter, Robyn Bolt, disappeared and was presumed dead. Gabriel soon discovered that Robyn had, in fact, come to Urima Manor, where she would be protected by Cordis and Dagan.
Ages 15 to 20
Edit
Gabriel spent the next five years of his life alongside Robyn, learning his Elements while she learned archery (and both of them avoided their other lessons). By this time, Gabriel could control the Elements of Earth, Water, Fire, and Spirit beyond the Classes of most of his teachers. After attaining Spirit, Gabriel attempted several times to end his life, as the strain was hard on him both physically and emotionally. Robyn intervened each time, and the two grew very close.
Gabriel was soon sent to Castle Jaden for additional training and his Classing. He was pronounced a Class Ten Mage, unheard of at the time, and soon became Robyn's official protector.